The Ford Store Commercial Vehicles (888)729-2117


Ford commercial trucks are the workhorses that give you the high level of performance and handling you require. San Leandro Ford, serving Oakland, CA, sells Ford commercial trucks, along with Ford cars and SUVs. Popular selections include the Ford Fiesta, Flex, Mustang, Focus, Transit Connect Cargo, Explorer, along with Ford trucks including the Ford Super Duty Series (Ford F-150, F-250, F-350). Our team is highly experienced in large volume Fleet sales, Commercial Vehicles and we are open to the general public. We also specialize in Light-duty and Medium Duty Trucks. Our new vehicle inventory is where you will find new Ford commercial trucks such as the 2017 Ford Super Duty F-350 Lariat and the New 2017 Ford F-250 Super Duty XL. San Leandro Ford also has a pre-owned inventory where you will find used Ford cars and trucks, along with other outstanding models. Certified pre-owned models are also available, and these come with a certified pre-owned warranty that includes specific warranty coverage, repairs, and roadside assistance. You can apply for financing on Ford commercial trucks or any other all new vehicle models of your choice.
---
CONTACT OUR
COMMERCIAL EXPERTS
Call Now: (888)729-2117
---
The Ford F-Series falls under the category of Ford commercial trucks, and the F-Series has been a huge seller over the years. The Ford F-150 is probably one of the most popular models, and the 2017 Ford F-150 gives you outstanding trailer-towing ability. Owning a new Ford F-150, allows you to haul heavy items from one location to another. Ford Super Duty trucks, such as the F-250 and F-350 provide you with tons of muscle and even more power. These vehicles have helped Oakland area commercial businesses run deliveries smoothly. San Leandro Ford has Ford commercial trucks in stock, and we also have new vehicle specials, pre-owned specials, and service specials.
When you are looking for Ford commercial trucks, come to San Leandro Ford first. We serve the entire East Bay area. Our dealership also welcomes out of state truck drivers looking for Ford commercial truck service, as well as Quick Lane service for drivers needing to obtain reliable service in a hurry. You can schedule service online and also fill out a parts request for our parts department to process just in case you need new Ford parts or Ford accessories for any Ford commercial trucks. Contact us with any questions about our fuel efficient vehicles, our powertrain warranty, Ford commercial trucks, or to schedule test drive with our staff.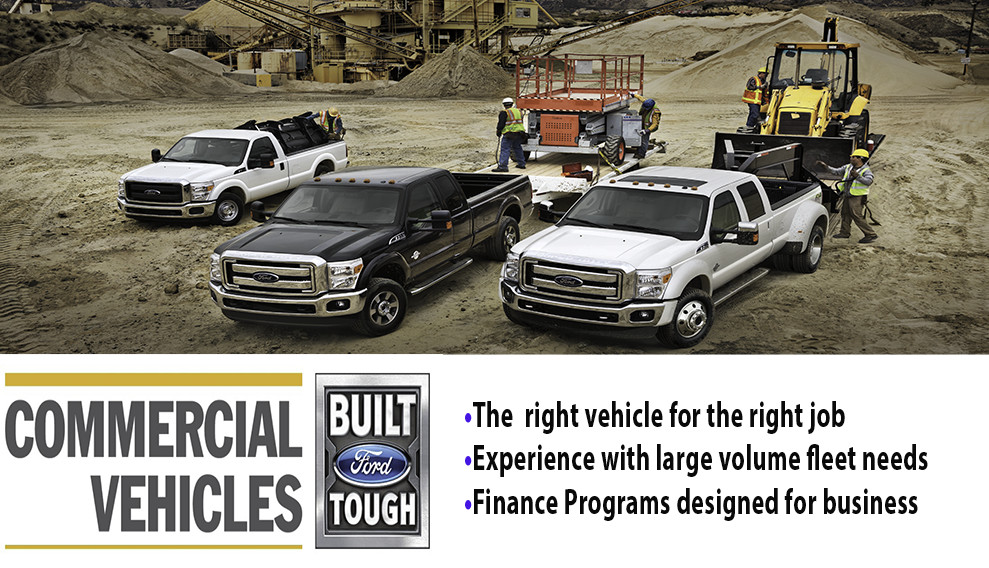 Selecting the ideal vehicle:
Commercial vehicles can be complex and your needs are unique. The Ford Store Commercial Vehicle Center dealer experience guides you in buying the right vehicle for your business' specific needs. BPN dealer personnel are trained and certified in commercial trucks and their applications - they understand how to translate your needs into the right truck for your business. BPN dealers also have a high-tech waepon in their diagnostic arsenal: Commercial Truck Tools (CTT).
CTT is a proprietary software system which takes your vehicle requirements (payload, cargo space, up-fit requirements, etc.) and recommends the most appropriate vehicle specification for you. The system includes competitive vehicle features so you understand all of you options.
---
Business Preferred Network Dealers:
What differentialtes a Ford BPN dealer from everyone else? Quite simply, Ford BPN stores have the Ford Motor Company vehicle, service, financing, and commitment that take the uncertainty out of acquiring and operating your fleet of vehicles. These commercially-minded dealers pledge to meet the most stringent staffing and operating standards. The result? Your business runs more smoothly - today and down the road.
Education: BPN dealers' sales, finance, service and parts personnel are required to be trained and certified to understand the unique requirements of commercial customers, the complexity of vehicles applications and your lease and finance options.
Certification: Our BPN dealers are held to very high standards, and monitored monthly, so that they have the latest information to provide you with the dealership experience you deserve.
Promotional Offers: Ford Motor Company and Ford Credit Commercial Lending offer unique fleet vehicle incentives, service and financing options through BPN delaers.
Simplicity: Through your BPN dealer, you can set up a single payment billing option for parts and service from any paricipating Ford dealer or Quick Lane Tire & Auto Center. This service, called Quality Fleet Care, is available for all your fleet vehicles, Ford and competitive makes. (Terms and eligibility requirements apply. See your BPN dealer for details)
---

Commercial & Fleet
Send a Message
Bill Lazar
Commercial/Fleet Manager
Phone 510-347-4138 Fax 510-347-4194 I am here to assist you with your needs. Feel free to call or email me at anytime.
Send a Message
Ron Reid
Commercial/Fleet Manager
Phone 510-347-4112 Fax 510-347-4194 I am here to assist you with your needs. Feel free to call or email me at anytime.
Selecting the right vehicle for your business could be difficult, which is why our Oakland area Ford dealer does all it can to make it simple and easy for shoppers. Commercial vehicles are the workhorses of every business, as they give you the high performance and strength that is needed for those heavy duty jobs. Each business needs something different, which is why our sales team is here to help you select the vehicle that fits your business.
If you are searching for a vehicle with incredible towing capacity and strength, the Ford Super Duty trucks are just what you need. The trucks such as the Ford F-250 and F-350 can provide a business with tons of strength and outstanding trailer-towing capability for all of the heavy duty jobs.
The Ford Store San Leandro Wants to Help Your Business
Some businesses need vehicles with ample cargo space, which is what the Ford Transit Connect Cargo can provide. Hayward area Ford Transit Connect shoppers can fit all they need inside these vehicles, ensuring nothing has to be left behind. With the help of these commercial vehicles, your business can run more smoothly for years to come.
If you would like to learn more about the commercial vehicles offered at our dealership, be sure to contact The Ford Store San Leandro. Our sales experts would be more than happy to help you and your business, and find the commercial vehicle that is right for you.